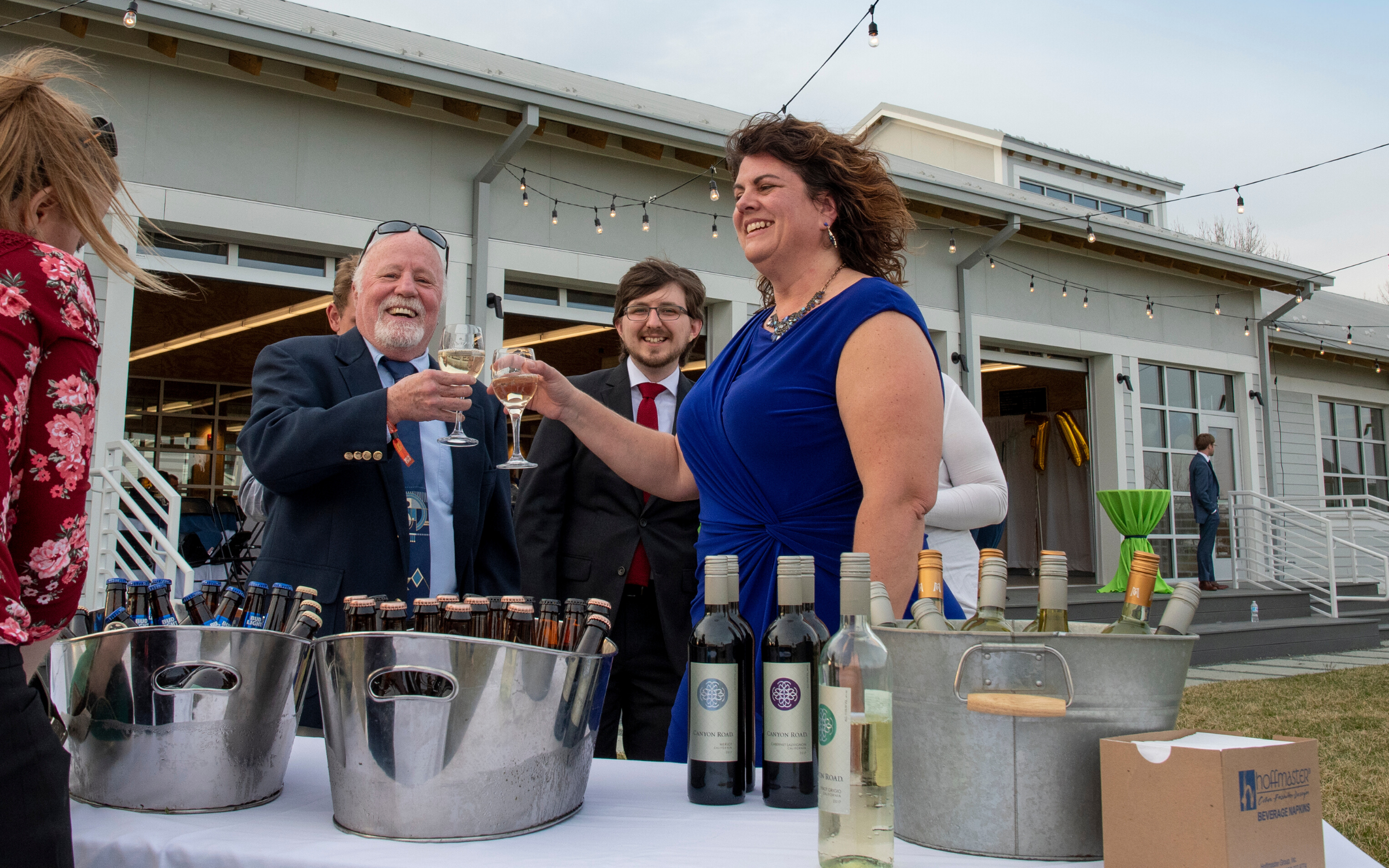 People & DepartmentsOffices

Conference Services
Conference Services
Conference Services is a one stop-shop that provides and arranges all campus services for program coordinators.
Visit Washington College
Schedule your next conference at Washington College. From mid-May through early August, we specialize in renting college facilities for conference and camp use. Filled with mature trees and walking paths, Washington College is a wonderful setting for a day or overnight conference. Our beautiful campus is conveniently located close to most major cities in the Mid Atlantic region.
Our Conference Services staff works directly with you to be sure your experience on campus is a positive one. From start to finish you will have the personal attention of a professional, dedicated to each program and responsive to your needs.
Click the image below to view our E-brochure


Our Beautiful Campus Facilities
State-of-the-art facilities to meet your event needs.
From high-end meeting space to premium athletic venues, Washington College has a space to meet your needs.
Come see for yourself! Contact Conference Services to schedule a campus tour of our facilities in order to get a firsthand look at why Washington College is the venue for your next event.
Meeting Spaces
Elegant boardrooms, high-tech classrooms, state-of-the-art theaters, and multipurpose rooms to fit programs of all sizes.
Athletic Venues
Kirby Stadium is consistently considered the best turf stadium complex on the Eastern Shore of Maryland. Also available is our indoor field house, basketball arena, and other natural grass fields.
Housing
Overnight guests of summer programs may enjoy on-campus housing in a variety of styles May through August.
All of Washington College's residence halls are air conditioned for our guests' comfort. There are approximately 1,100 beds available for summer programs with varying availability. The residence halls are spread throughout the beautiful 112 acre campus and are within easy walking distance of the dining hall, classrooms, and athletic facilities.
On-Campus Housing Options
Each Western Shore Residences contains four apartment style units. Each unit contains four single bedrooms, two shared bathrooms, a common area and kitchenette.
Full-suites (with common living rooms) and partial-suites (without common living rooms) are available. Most suites contain one double-bedroom, and two single-bedrooms with a shared bathroom. Buildings with suite style housing contain large common lounges and full kitchens for our guests' enjoyment.
Guests can expect to find several buildings containing double or single occupancy rooms and shared common bathrooms in each corridor. Buildings with standard accommodations also will include large common lounges and some have kitchen facilities.
Washers and dryers are located in every residence hall. Guests should plan on bringing their own laundry detergent and dryer sheets or may purchase these supplies from the College bookstore.
Overnight guests will have access to the College's state-of-the-art recreation facilities including the Johnson Fitness Center and the Casey Swim Center during scheduled community times. *All times subject to change without notice.
Johnson Fitness Center Monday-Friday: 7 a.m.-9 a.m.; 11 a.m.-1 p.m.; and 4 p.m.-7 p.m. Saturday: 11 a.m.-2 p.m.
Casey Swim Center: The pool is available by sign-up basis only for the summer (May, June & July),to get the link to sign up for a swim time, email Kim Lessard at klessard2@washcoll.edu.
Private group sessions with lifeguard need to be scheduled in advance and are dependent on the availability of lifeguards.
Washington College parking is open and free of charge during the summer months. Guests do not have to register their vehicles after Commencement through mid-August. Parking on campus roadways and grass is not permitted at anytime; violators are subject to ticketing and towing at the owners expense.
Washington College is not responsible for damage that may occur to vehicles while parked on campus. This damage includes (but is not limited to) foul ball strikes or objects cast by lawn mowers. Reports of damage can be made with the Public Safety Office, and reports will be given to the vehicle owner upon request.
Note: Designated Visitor spaces are located behind Bunting Hall, in the Casey Academic Center circle, and by Kibler Field. These spaces are for official visitors on campus business only, not for general summer Visitor Parking. All others in these spaces will be ticketed.
Unless your group has advised otherwise, Washington College does not provide linens in the residence halls. Guests are encouraged to bring their own twin sheets, pillows, blankets, and bath towels.
Other items you may consider bringing include:
Small reading lamp
Shower shoes
Toiletries
Alarm clock
Closet hangers
Laundry detergent
The College requires overnight guests to follow several policies regarding prohibited items in the residence halls including, but not limited to, the following:
Candles or other open flames
Extension cords
Incense

Halogen lamps
Accommodations are also available year-round at Local Hotels. These hotels offer preferred rates to guests and clients of Washington College Conference Services.
Dining
We know how important food is to our guests!
That's why our dining services team takes great care into creating programs and menus that satisfy even the most discerning palate. Our all-you-care-to-eat menus rotate every other week and feature fresh salads, fruits, vegetables, made-to-order sandwiches, pizzas, and hot entrees.
Washington College Dining Services takes great care of our guests with special dietary needs and restrictions. Gluten free, dairy free, and vegetarian options are regularly available throughout the dining hall. In addition, nutritional information is displayed with all of our prepared foods.
The main dining hall on campus featuring all-you-care-to-eat meals seven days a week. Seating for 500 people is available in the main dining room adjacent to the serving lines.
Summer Hours:
Breakfast 8 a.m. - 10 a.m.
Lunch 11 a.m. - 2 p.m.
Dinner 4 p.m. - 6 p.m.
*Hours are subject to change without notice and can be altered to fit the varying needs of our guests.
Featuring Starbucks Coffee, tasty bakery selections, sandwiches, salads, and smoothies.
Closed during the summer.
Full service catering is available to our guests for any occasion. Our team of chefs will work with you create menus that are unique and delicious. Or you may choose from one of our many standard meeting breaks, continental breakfasts, or tasty buffet menus. Whether it's six or six-hundred people - we have a menu that's right for you!
Technology
State-of-the-art equipment along with our friendly and knowledgeable staff will ensure your program is a success!
Let your conference planner work with our in-house technology and media services team to support your program. Basic audiovisual services are included in the price of our facilities rentals.
All facility rentals (subject to availability) includes audio support including mics, PA systems, and music playback. Custom packages for fully engineered audio support, performance audio production, and sound mixing may also be available for an additional fee.
Many of Washington College's classrooms and meeting facilities have state-of-the-art media including laptop connections, built-in computers, desktop cameras, projectors, surround sound, Blu-ray DVD, and SMART Boards available at no extra charge. Our friendly IT support staff are available to assist you with the use of your in-room technology.
Meet from anywhere! Ask your conference planner about arranging a conference call over the phone from any campus facility or hosting a Webinar using the College's high-speed internet connection.
Wireless internet connectivity is available throughout the campus including the residence halls by using the WC Guest WiFi network. Follow online direction, click the box that you haver read the agreement and hit connect. Questions contact helpdesk@washcoll.edu 410-778-7777.
Public Safety
Washington College is committed to the safety of all its guests. The Department of Public Safety is on patrol 24 hours a day. They can be contacted at 410-778-7810.
Contact US
Director of Conference Services
410-778-7253

Bunting Hall, Second Floor