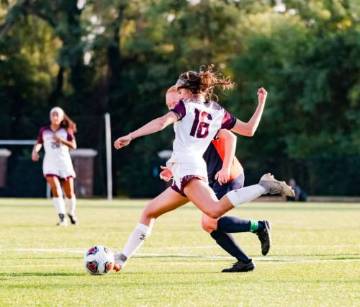 EXTRACURRICULAR ACTIVITIES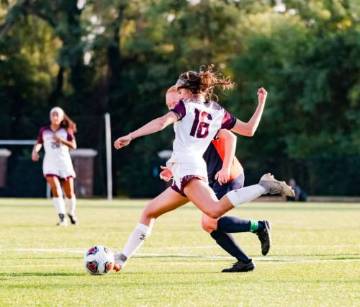 A Sense of Community
Keelie Verbeek
Class of 2022 • Southborough, Massachusetts
EXTRACURRICULAR ACTIVITIES
Attending a small, close-knit high school for four years, Keelie Verbeek '22 was missing that same community feeling, as she headed into her freshman year on a large campus in the city of Boston. Fortunately, a trip to visit a friend in Chestertown changed everything.
Stepping onto campus, even in the pouring rain, she knew immediately that Washington College was just that, "a community where everyone knows everyone, and for the most part, takes care of each other." Now, as a transfer student, Verbeek has settled into life on the Eastern Shore, finding her home on the soccer team and in the Department of Art + Art History.
Throughout her life, Verbeek has used art and athletics as coping mechanisms to tackle mental health issues. Now as a Shorewoman, she is bringing those same passions to life, both on the soccer field and in the realm of art history. "The concept of creating art to serve a particular movement, purpose, or individual is universal," she remarks, "But the ways in which those concepts present themselves in images varies drastically, and I find that incredibly interesting."
Well on her way to pursuing a major concentration in art history, as well as a minor in Arts Management and Entrepreneurship, she has an innate ability to bring her passions to life in the classroom. As an animal rights activist and vegan, Verbeek strives to live an entirely cruelty-free life, but encounters a conflict when faced with the animal products used in many art supplies throughout art's history.
In her final project for Professor Tilghman's Medieval Art History course, she plans to explore this conflict, particularly as it relates to animal ethics and the history of art in the Middle Ages and Renaissance.
Beyond the Department of Art + Art History, Verbeek's heart is with the women's soccer team. "It is really hard to balance school and soccer sometimes," she explains, "But in reality, I think I would be far worse off without this team." With 25 women by your side, fighting the same fight, the support is both invaluable and unbounded.
Keelie's Four Year Plan
Year 2
Beyond the Classroom
Exploring Medieval Art
Focusing on her distribution credits and fulfilling her major requirements, Keelie still manages to work on projects that excite her. She begins researching animal ethics in the history of art, specifically during the Middle Ages and the Renaissance.
Year 3
Learning by Doing
Internship Search
Keelie plans to spend the late spring and summer of her senior year interning, a requirement for the Arts Management and Entrepreneurship minor. With dozens of possibilities, she hopes to find an internship at either the Museum of Fine Arts or the Isabella Stuart Gardner Museum in Boston.
Year 4
Looking Forward To
Senior Year
Keelie is not ready to think that far into the future. "If my classes, soccer, and life keep going as they are, senior year won't be as scary as it seems right now."