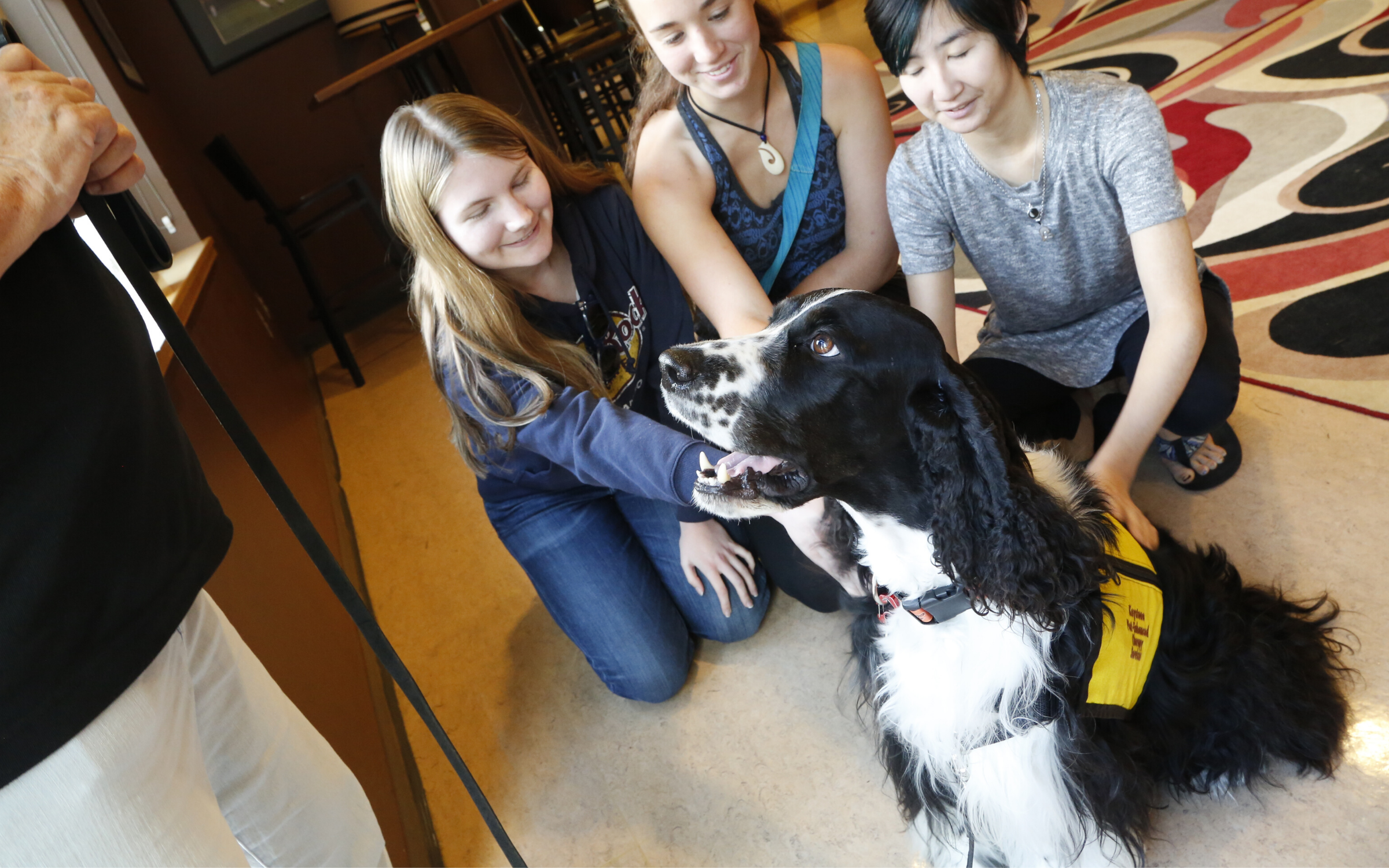 Campus CommunityHealth And Counseling Services

Counseling Center
Counseling Center
College can generate academic, emotional, personal, social, and even financial concerns. Although not uncommon, at times these concerns can make it difficult to succeed or function while at school. Counseling is an excellent way to address such concerns.
Contact Counseling Services

Monday-Friday 8:30 a.m. - Noon & 1:00 - 4:00 p.m.

410-778-7261

First Floor Queen Anne's House
Counseling Services
Counseling provides a safe and structured environment in which students can explore various aspects of their emerging adult lives - independence, values, personal goals, intimacy and friendship.
Our professionally trained counselors work with students whose concerns range from the every day challenges of college life to more disruptive psychological issues. Students wondering whether their concerns are appropriate to bring to the Center are strongly encouraged to make an appointment to talk with one of our staff.
Crisis Services
If you're experiencing suicidal thoughts, are having trouble completing daily tasks, or are facing an acute stressor that threatens the safety of yourself or others, we'll get you in for a same-day emergency appointment.
Updates for Spring 2020:
We have updated our emotional support animal and medical leave policies. Click below to view them.
Taking a Leave of Absence to Address your Mental Health Challenges: What You Need to Know
When a person is in the midst of dealing with a serious mental health problem, sometimes going to school and caring for themselves can be too much to handle. It's important to know what options are available to make becoming mentally healthy again a top priority--this may mean needing to leave school for a while, or taking a Leave of Absence.
What is a Leave of Absence?
A Leave of Absence is a period of time when a student is not on campus attending classes. Because we understand that other things may come up for students, there are procedures that allow them time away when needed.
When should I consider a Leave of Absence?
You may consider a Leave of Absence if:
Your mental health is disrupting your ability to participate in academic and campus life, even with supports and accommodations.
You feel you are in crisis or that your level of distress is becoming intolerable.
You believe the stress and pressure of college is seriously disrupting your ability to focus on your well-being.
You feel you need an increased level of care.
You are not able to access the services you need at Washington College.
You feel that time away from classes would be beneficial for your long-term wellbeing.
How will taking a Leave of Absence affect me?
It depends. Often, students who believe the stress or environment at school has been detrimental to their mental health and/or believe they would benefit from time away will take a Leave of Absence. This time allows them to focus their energy and efforts on attending to their psychological wellbeing and self-care so that they will be better able to participate and enjoy campus life when they return. Many who take Leaves of Absence report the time was useful and, although it may have been a difficult decision, helped them in the long-term.
While this option can be very helpful for some, not all students feel it is best to take a complete Leave of Absence. For some, the option of returning home might present different challenges, and they may feel more comfortable in a school setting. If you are already working with a counselor in the counseling office, discussing the options is a good place to start.
The Provost's Office is also able to help you make a plan to move forward. Some important questions to ask include:
"What are my options"?
What are the specific requirements and documentation that I will need to file and when are the deadlines?
How will this impact my financial aid?
Are there any requirements that I must satisfy during my Leave?
Will I need to reapply to the college?
What are my rights?
Students with disabilities, including those related to mental health, have a right to reasonable accommodations relative to their disability. This includes extra time on exams or assignments, the ability to withdraw from specific classes, and leaves of absence. You should contact our Office of Disabilities Services to ask about accommodations. They will explain what documentation is required about your disability and how it affects your schoolwork. You can find more information about your rights, particularly surrounding involuntary leaves of absence, from the Bazelon Center for Mental Health Law's Campus Mental Health Know Your Rights (pdf).
Where do I start?
Reach out for help to those who can help you on campus Let those around you know you are struggling.
While talking about your mental health can feel scary, a counselor in the Office of Counseling Services, a trusted friend, family member, or advisor can support you and help you determine the best course of action.
Discuss your options
Review any potential changes to your current and future enrollment status. This could be extensions of assignments, taking an Incomplete for certain classes so that you may finish the work after the semester ends, dropping classes, or taking some time away from school completely. (The Provost's Office and the Office of Disabilities Services) Only you, with the help and guidance of those around you, know what is best when it comes to taking care of yourself.
Make and formalize a plan
After deciding on a course of treatment, and any changes in your status at school, you should make a formal plan for moving forward. Please refer to the college Student Handbook for important information about our Leave of Absence policy and disability accommodations. You will find instruction on how to provide certain documentation or satisfy certain requirements for your return to school as a full-time student. These can be found by searching our website, but you will also receive written confirmation from various offices outlining the documentation needed to return when you are ready.
Students will occasionally request that the Office of Counseling Services (OCS) licensed, professional staff provide them the documentation necessary to receive a recommendation for an emotional support animal (ESA) as an accessibility accommodation. Accessibility accommodations are legally binding for the College, and because it mixes clinical and forensic roles, professional counseling center staff will not assess (diagnose?) a disability as defined by the Americans with Disabilities Act (ADA), nor will they specifically endorse a request for accessibility accommodations.
The approval for an ESA requires a diagnosis of a psychological or physical disability. Diagnosis leading to a recommendation for an ESA depends on a recognizable degree of impairment in key areas of life functioning. Additionally, there needs to be an evaluation of how a particular ESA helps mitigate specific symptoms and improve functioning in ways that otherwise would not be achievable. For students who are in college housing on campus, the recommendation for assessment can be initiated by the OCS, but will get final approval by the Disability Access Specialist in the Office of Academic Skills.
Individuals who visit the OCS services for the express purpose of obtaining accessibility accommodations, will be offered a referral to a community provider.
If an ongoing client requests, in writing, that clinical information be shared with the Disability Access Specialist in the Office of Academic Skills. (or similar provider/entity off campus), this request shall be honored. Clinicians should provide a summary of the student's file while ensuring that they do not advocate for or endorse a specific accessibility accommodation or the need for accommodations in general.
Important numbers
Hilary Bateman, Office of Disabilities Services and Academic Skills: 410-778-6384 Hbateman2@washcoll.edu
Andrea Vassar, Assistant Dean in the Provost's Office: 410778-7883 Avassar2@washcoll.edu
Miranda Altman, Director of the Office of Counseling Services: 410-778-7261 Maltman2@washcoll.edu
Scope of Services
Washington College's Counseling Center is structured to provide short term counseling focused on the following areas:
Adjustment issues
Difficulty coping with emotions (e.g., depression, anxiety, anger)
Interpersonal and relationship difficulties
Health-related concerns (sexuality, alcohol, problems with eating or sleeping)
Concerns about academic issues (e.g., poor motivation, concentration problems, test anxiety)
Stressful/traumatic experiences (e.g., financial/legal problems, conflicts among roommates, friends, or family members, death of friend/family members).
For over 90% of the students we see, their personal problems have at least a moderate impact on their studies, even when academic concerns are not the main issue for which they sought help.
The duration of treatment varies according to students' needs, but counselors work to provide relatively brief treatment in order to facilitate adjustment, successful functioning, problem resolution, and symptom relief as soon as possible. A short-term approach also enables the Center to offer services to as many students as possible. All services are provided without charge to students and are confidential. All information remains in the Center and is not shared with parents, faculty or other staff of the College without written permission from the student.
Research and our own experience reveals the power of group counseling in addressing many of the most common core themes and clinical concerns found in a college setting. Throughout the academic year, you will receive announcements about new groups that are forming. If you have an idea for a particular group, please feel free to let us know!
Faculty, staff and family members are often in a unique position to assist students in distress. Unfortunately, many students fail to get the professional help they need. The Counseling Center staff welcomes the opportunity to consult with families or members of the campus community to assist you in your work and interactions with students.
The Counseling Center is available to respond to crises and critical incidents affecting the Washington College community. Some examples of emergencies include, but are not limited to the following:
when students are thinking about harming themselves or others,
when students feel unable to function,
when students have experienced a traumatic event, or
when members of the campus community are seriously concerned about a student's welfare or safety.
If the emergency is life-threatening, call 911 or go to the nearest emergency room.