What is AKD?
Alpha Kappa Delta is a non-secret, democratic, international society of scholars dedicated to the idea of Athropon Katamanthanein Diakonesein or to investigate humanity for the purpose of service. There are AKD chapters on over 500 college campuses in the U.S. and other countries with more than 50,000 lifetime members.
Who can join AKD?
Only the most advanced undergraduate students in the discipline are eligible for membership and must be at least Juniors majoring or minoring in sociology, have a cumulative GPA of 3.0 as well as a GPA of 3.0 in sociology course work, and students must have taken a minimum of 4 sociology courses on the Washington College campus. Additionally, only the top 35% of students in their academic class are eligible.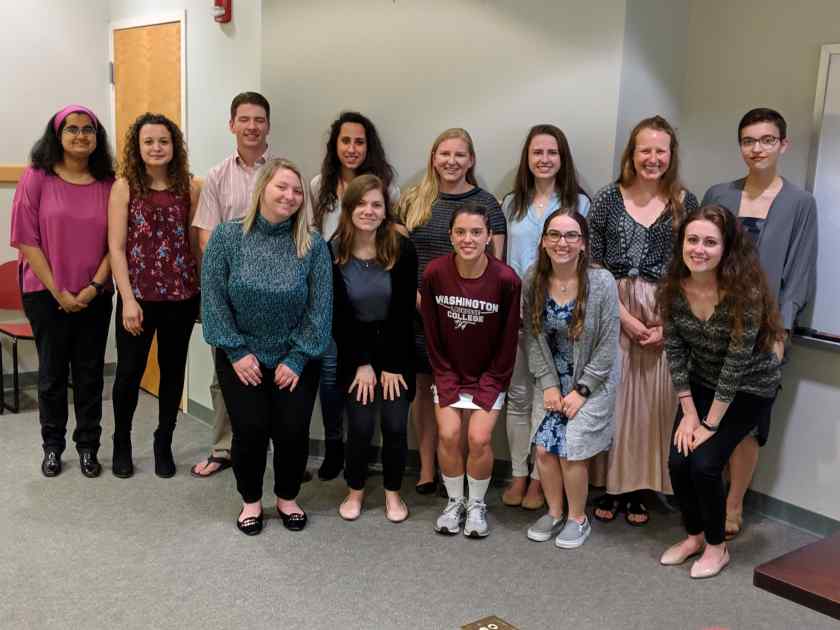 Benefits of membership
Once you become a member of AKD you are a lifetime member and have the opportunity to take advantage of the society's benefits and opportunities. Members receive a certificate of membership, handbook, and activation form. Once membership is activated, you will receive a one-year subscription to the journal Sociological Inquiry, the official journal of the society, the Alpha Kappa Delta Newsletter, and materials to participate in elections for the honor society.
Members are also eligible to participate in student paper competitions sponsored by the society and request funds to assist in travel to regional sociology meetings. The Washington College chapter is also eligible to receive funds for honoraria for speakers and fund research symposia.
The benefits of membership will also follow you once you graduate from Washington College. For students applying for admission to graduate programs, membership in AKD is regarded as an excellent accomplishment and for applicants of civil service positions with the U.S. government, membership in a qualifying honor society, including AKD, may make you eligible to receive a two-step boost in pay as a GS-7 grade. Additional information on this can be found on the U.S. Office of Personnel Management Web site.
For additional information visit the AKD: International Sociology Honor Society webpage.