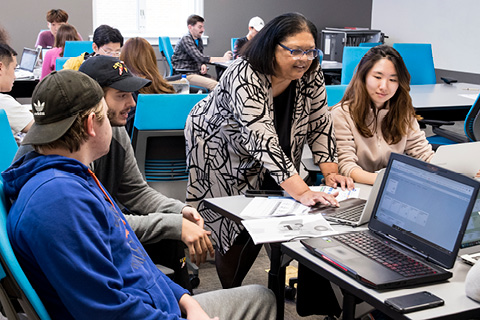 Why study Business Management? To create a business. To excel at the work you love. To develop your leadership skills. To change the world.
We transform students into leaders to create better worlds.
Breaking Highlights
Thanks to the generous support of the JHC Foundation, the College has been awarded a $5 million grant to support the Department in its efforts to seek AACSB accreditation as well as to enhance the overall student experience. Read more here.
$1 million grant created the Warehime Fund for Student Excellence in Business, to support student research and experiential opportunities.

The Brown Advisory Student-Managed Investment Fund Program won first place, for the second year in a row, in the 2021 Quinnipiac Global Portfolio Competition, Undergraduate Value Portfolio category.

Our newly established partnership with B-Local Mid-Atlantic, an organization committed to "helping business people achieve socio-economic and environmental impact", provides opportunities for students to connect with for-profit firms that espouse business as a force for good.
Is business management really a liberal art?
Yes!
Ask any business leader what she's looking for in a new hire, and she'll say that while technical skills matter, more important are the skills to think critically and ask questions, communicate clearly in writing and speech, work effectively as part of a diverse team, and solve problems. At Washington College, you'll develop those skills both in the classroom and outside of it while learning the building blocks of business, actively growing in your ability to be competitive wherever your path takes you. Moreover, we know that you want to make a difference. We'll help you discover life with meaning through the exploration of ethical, sustainable, socially responsible solutions to challenges faced by organizations. The bottom line: We'll help you develop your skills, connect with our extensive alumni network, and find great workplaces that click with your passion and your values. That's why we call what we do the active liberal art. It's your story—start writing it. We'll help you do it.
Program Features
A rigorous business foundation–grounded in liberal-arts values. Our comprehensive business program covers accounting, marketing, finance, organizational behavior, information systems, strategy, global business, and more. All of these areas are linked throughout with ethical awareness, critical thinking, and skills that matter, and infused with learning from across the College.

Global learning. Business bashes borders. For you, that means that studying business has to include studying the world. We bake a global perspective into our program in many ways: international-studies courses, foreign language study, and study-abroad for a semester or a shorter summer program. You'll be able to choose your favorite way to broaden your horizons.
The Business Management Senior Capstone Experience. Write a rigorous, detailed analysis of a publicly held firm, develop a business plan that's investor-ready, conduct primary research, explore a business topic that speaks to you and your passion, all under the close mentorship of dedicated business management faculty.
Learning Goals
Our learning goals can be expressed as the pursuit of integrity, critical thinking, and skills that matter.
Students will know the importance of ethics and social responsibility in business and organizations.

Student will be able to interpret texts, analyze data, and conduct research that they communicate clearly and effectively.

Students will recognize the global context of contemporary business and be able to work collaboratively with people from diverse backgrounds and cultures.

Students will develop the skills and capacity to integrate a liberal arts education across relevant areas of business and management.
Requirements for the major
We make it easy to complete the Business Management major. Here's how.
Departmental Minors
These minors allow students to pursue areas of interest in-depth to prepare for careers and graduate school.
Interdisciplinary Minors
In partnership with our friends in other departments, we offer several great ways you can add something extra to your core studies.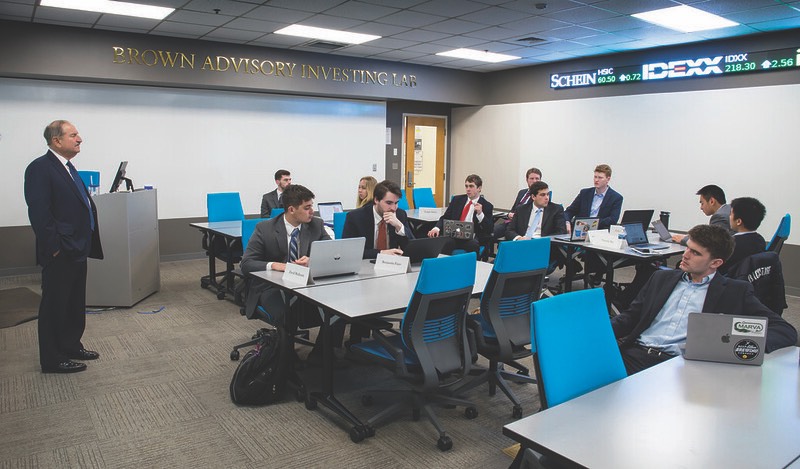 Student Opportunities
Organizations like Enactus, our student chapter of the American Marketing Association, and the Brown Advisory Student-Managed Investment Fund Program give students in Business Management the chance to hone their skills outside the classroom.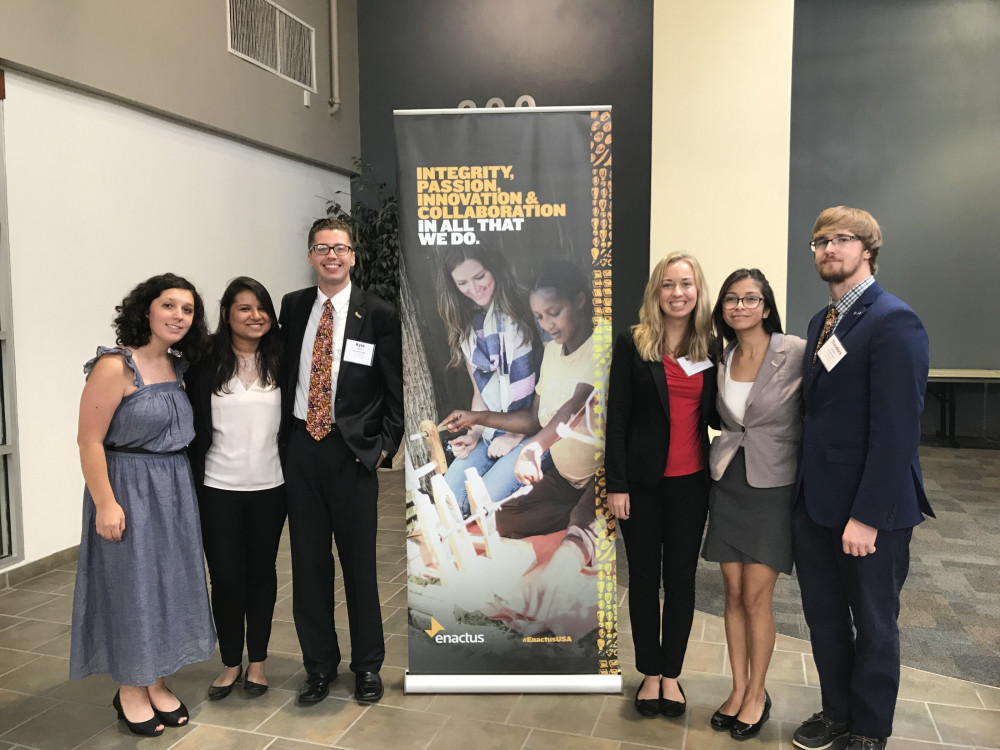 Honor Societies and Awards
Academic excellence, business savvy, leadership potential—there are many ways to stand out and win recognition for excellent work in Business Management.