People & DepartmentsOffices

Provost And Dean
Office of the Provost and Dean
The Provost Office is directly responsible for overseeing faculty, students and administrators in all phases of service, teaching and research.
Our office provides faculty, staff, and students with the support needed to be highly successful in all aspects of academia; whether that be offering data through institutional research, overseeing implementation of operating salary and capital budgets, or providing students with the close connections Washington College strives to achieve.
FACULTY: Please note that forms and documents specifically for faculty are now located on the secure Faculty Admin SharePoint Site.
The Provost's Office is is dedicated to providing meaningful educational opportunities and experiences for all students.
Summer Advising
The planning for 2022 Summer Advising is underway! We are planning for a return to an in-person experience in June 2022.
Faculty Recognition
Huzzah! Three of our recently retired faculty members have been awarded emeritus status by the Board of Visitors and Governors. Richard Gillin, Professor of English, Eugene Hamilton, Professor of Mathematics, and Michael Kerchner, Emeritus Associate Professor of Psychology, will be recognized during Commencement festivities on Oct. 17.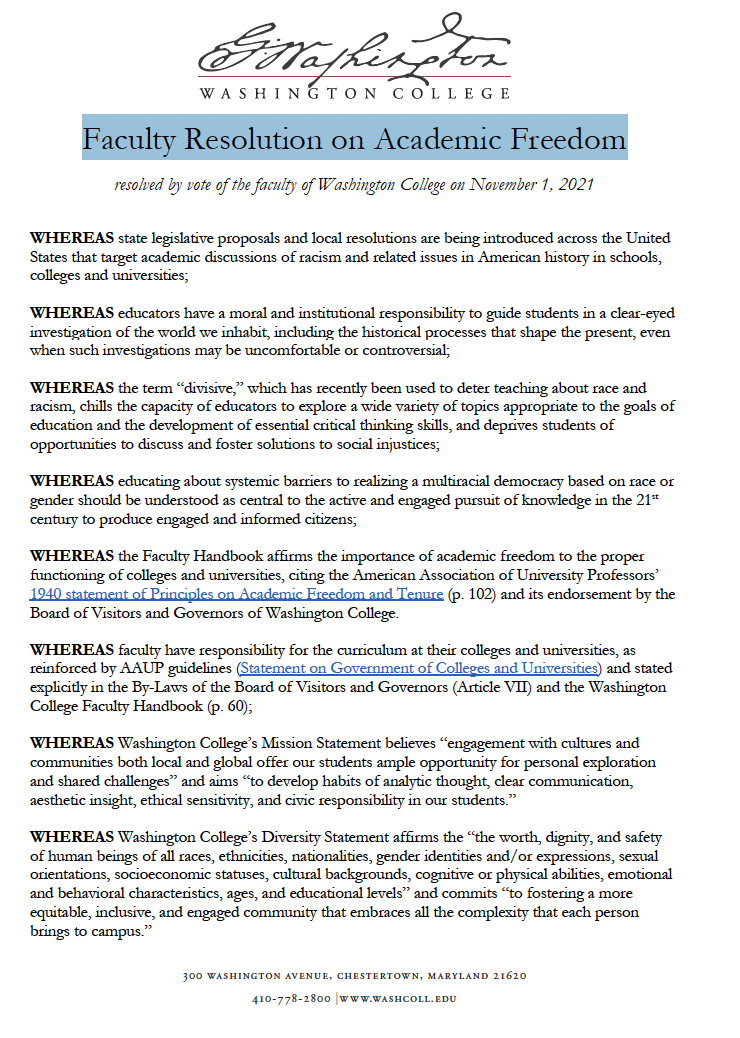 Resolution on Academic Freedom
On November 1, 2021 the faculty of Washington College approved a Resolution on Academic Freedom wherein the faculty resolutely rejects any attempts to restrict or dictate college curriculum on any matter, including matters related to racial and social justice, and will stand firm against encroachment on faculty authority by bodies external to the faculty.