Washington College Announces Imbruce as CES Director
Valerie Imbruce, Ph.D., brings experience and vision to Washington College Center for Environment and Society.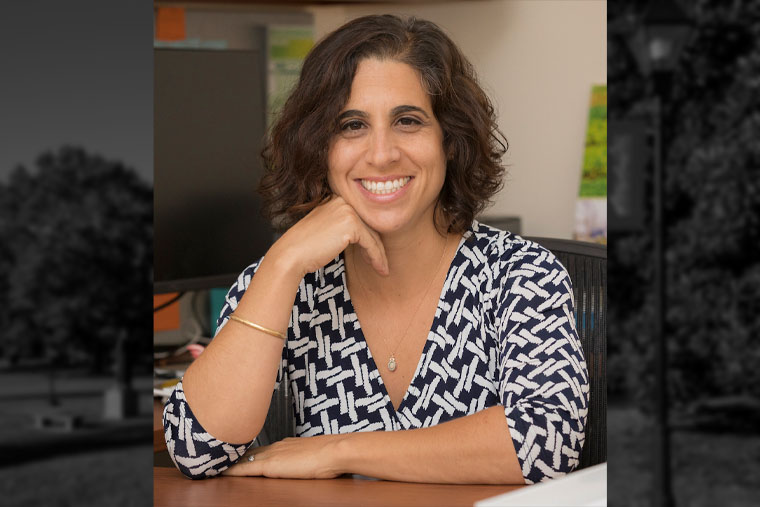 Washington College has named Valerie Imbruce, Ph.D., as the new director of the Center for Environment and Society (CES). Imbruce quickly stood out among a strong field of candidates during a national search process with experience and a vision that aligns with the evolution of CES.
"Washington College is at a pivotal time. We are engaged in strategic visioning and planning that will lead us to our 250th anniversary over the next ten years and Valerie will have the opportunity to integrate the future of the Center for Environment and Society with that of the College," said Mike Sosulski, president. "It is an exciting time, and I am looking forward to see how her leadership of CES contributes to propelling Washington College forward."
Imbruce comes to Washington from her alma mater, Binghamton University, where she served as Director of the External Scholarships and Undergraduate Research Center and as an affiliated faculty member in environmental studies. She received her undergraduate degree in environmental science before going on earn her Ph.D. in plant sciences and economic botany through a joint program of the City University of New York Graduate Center and the New York Botanical Garden.
"CES's vision of discovering, appreciating, and stewarding the places in which we live is one that I also hold and has guided my teaching and scholarship," said Imbruce. "My goal is to work inclusively and transparently to strengthen the Center as a signature program that is integrated with the College for students and faculty from across the disciplines to benefit from."
Imbruce, an ethnobotanist and interdisciplinary social scientist, focuses her scholarly interests on the nexus of humans and the environment, in particular, the study of sustainable food systems. She has published numerous papers and is author of the book From Farm to Canal Street: Chinatown's Alternative Food Network in the Global Marketplace. Her research and educational initiatives have garnered grant support from the U.S. Department of Education, the National Endowment for the Humanities, and the National Science Foundation among others. At Washington College, she will have an affiliate faculty appointment in the Department of Anthropology and Archaeology.
She will lead CES as it looks to expand opportunities for Washington students, increase collaboration with faculty across the campus, and leverage the strengths and resources of CES to raise the Center's research profile through innovative programming and outreach. While at Binghamton, Imbruce created a signature first-year research immersion program in the humanities and social sciences called the Source Project. The program sets the institution apart from other universities and has become a centerpiece for admissions recruiting efforts at the institution.
Before joining Binghamton, Imbruce served as a faculty member and director of environmental studies at Bennington College in Vermont. She will begin her duties at Washington College on February 1, 2023.