Library Earns Grant to Improve Accommodation for Neurodivergent Patrons
An initial meeting on Nov. 15 will gather community input on proposals to address sensory sensitivity, executive function challenges, and anxiety, whether arising from autism spectrum disorder, other documented conditions, or temporary disability such as concussion.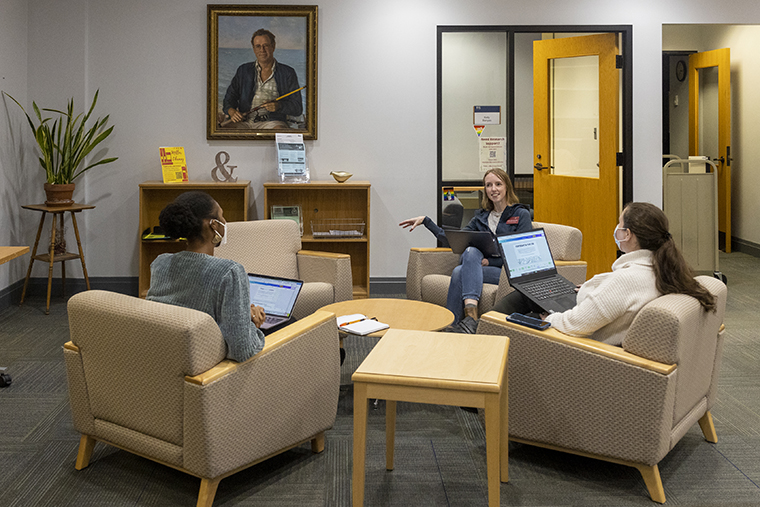 Public Services Librarian Andrea Boothby Rice talks with two colleagues in the Miller Library.This month, Washington College's Clifton M. Miller Memorial Library is beginning a year-long process to implement a variety of equipment, programming and training updates to better serve students and community members with increasingly common sensory sensitivities and related challenges.
The project is funded by a grant from the American Library Association program Libraries Transforming Communities: Accessible Small and Rural Communities, which awarded funds to 240 public, academic and school libraries throughout 42 states and the Northern Mariana Islands.
The Miller Library's successful grant proposal was generated by library staff, three Washington College students, and support from the Office of Academic Skills, which is on the second floor of the building. The application notes that the College has a high percentage of students with academic accommodations for documented disabilities, including sensory processing or anxiety disorders—29% compared to a national average of 19%—and makes the point that many people still avoid documenting their challenges or have temporary conditions with the same problems, meaning that is likely an undercount.
"It's a great idea that we are trying to make the library more accessible for this group of students. This is a way to really make our school stand out among potential students," said MacKenzie MacDonald '25, who is a student worker at the library and contributed to the application. "With the physical changes that have occurred in the library, I think it's time we do something about how our students utilize the space, including those with sensory sensitivities. We are always looking for ways to make the library more accessible both physically and otherwise."
Ideas proposed in the initial grant application included staff training, creation of a library map showing sensory information about spaces like which areas are noisier or where there is more or less light, implementing a dynamic digital map that shows how busy particular areas are in roughly real-time, and building resource carts for every study room and the general floors that would include potentially helpful items like noise-canceling headphones and devices to adjust how library patrons experience the light, temperature or feel of spaces.
But a unique aspect of the grant program is that it requires that work starts with at least one community input-gathering session, to be held from 4 to 5 p.m. on Nov. 15 in the Newlin Room on the first floor of the library.
"The really neat thing about this project is that it requires us to hold community conversations with the individuals who are a part of the group ... to make sure that we're spending the $20,000 that we're getting how it actually needs to be spent," said Andrea Boothby Rice, public services librarian and lead author of the grant proposal. "It's all based around community conversations, listening and hearing community needs from libraries, and making sure we're meeting the needs rather than just making assumptions."
Boothby Rice and her collaborators worked to do that even at the proposal stage, inviting input not just from their student workers but also from Grace Apostol '24, the Student Government Association's lead representative on accessibility issues.
"My specific position as ADA Cabinet chair was created through the SGA...because of feedback from the campus community. It is all interconnected, because we are a small campus," Apostol said. "So many different people were involved in making this happen, and I am proud we were able to do this. Faculty and students alike felt heard when the grant was awarded, and real change can occur for the disabled community at Washington."
Boothby Rice agreed that the goal is real change that improves the experiences of people who use Miller Library, which includes not just Washington College students but some community members since the library has a small community borrower program and is open to the public. All in all, she said updates will not only improve the library's usability, they could also affect the sense of inclusion and community on campus as well.
"Students come here to study, but they also just come here to meet with other students. They come and they collaborate and use our resources, and it's not a requirement for them to be here. It's a choice to be in this space. And there are so few spaces like that, that don't ask something in return," Boothby Rice said. "Thinking more inclusively about those students and their different experiences and their different abilities and making sure that anytime people come into the library, they are having a positive interaction is so important, making sure that feeling of belonging is campus-wide and society-wide. The library is unique because we see the whole community."
Dean of Library and Academic Technology Mary Alice Ball said the efforts of Boothby Rice and her collaborators fit well in the overall efforts being made at the library to create a more inclusive and useful space.
"Our understanding of individual needs has grown as we learn about the range of disabilities our students face, whether they are permanent, temporary, or situational," Ball said. "This grant is just one step of many already taken to create greater inclusivity in Library and Academic Technology's physical and digital spaces so that all of our users can enter and have their information needs met. Accessibility work is iterative and will continue as we evaluate our services to enable positive experiences and belonging."