Washington College Joins Transform Mid-Atlantic
Premier Civic Engagement Collaborative Comprises Nearly 40 Schools in Maryland, Washington, D.C., and Delaware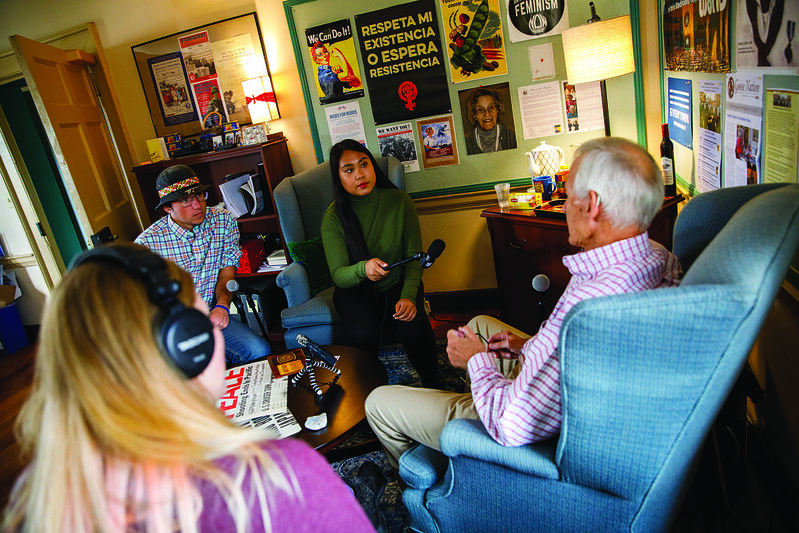 In February, President Mike Sosulski announced Washington College had joined Transform Mid-Atlantic, a nonprofit organization made up of about three dozen institutions of higher education throughout Maryland, the District of Columbia, and Delaware that have committed to providing opportunities for their students to participate in civic engagement and develop into active citizens.
"Transform Mid-Atlantic is an incredible resource that can help us achieve our mission 'to challenge and inspire emerging citizen leaders to discover lives of purpose and passion,'" Sosulski said when announcing the partnership. "As a community, Washington College must face three great challenges that will define the next decade and beyond for us: the global climate crisis; the crisis of democracy; and the challenge of renewing the liberal arts for the 21st century. Transform Mid-Atlantic can support us in the work of equipping our students to face these challenges, and we look forward to launching this partnership."
Transform Mid-Atlantic promotes many forms of civic engagement, which the students, faculty and staff at Washington College have undertaken for centuries.
Fostering civic dialogue; partnering with organizations that create healthy and sustainable communities; participating in government at local, state and federal levels—all of these are vital pieces of what is known broadly as civic engagement, and the list doesn't end there. It also includes uncovering important facts from the past, as the Washington College History Project and the Chesapeake Heartland collaboration do; researching issues of importance to the community and helping to act on them; and creating educational resources for children and adults to learn about their society.
One thread that ties together Transform Mid-Atlantic's and Washington College's civic engagement efforts is the thoughtful and respectful collaboration of many people from across our communities.
Since its founding, Washington College has emphasized this kind of work. Moving forward, today's Washington is working to grow the most effective and reciprocal civic engagement initiatives in its long history.
"It is important for us to be thinking inclusively about what civic engagement means. One approach that remains consistent is this commitment to process and reciprocal relationship building." — Patrick Nugent, Thomas V. Mike Miller Jr. Director of Civic Engagement
Patrick Nugent, the Thomas V. Mike Miller Jr. Director of Civic Engagement at the Starr Center for the Study of the American Experience, serves as one of Washington College's representatives on Transform Mid-Atlantic's Senior Advisory Group for Engagement, which helps the organization with its strategic planning and implementation, advises its executive director, and actively supports its mission on members' home campuses.
Considering how the Transform Mid-Atlantic partnership will benefit Washington, Nugent notes that it presents opportunities for faculty, students, and staff to travel to partner campuses, connect with peer institutions similarly committed to civic engagement, and learn new ways to incorporate such work into life and learning at Washington College.
While Transform Mid-Atlantic offers many opportunities for our community and campus, Nugent identified a handful that would be an early focus, including the possibility of bringing an AmeriCorps VISTA member to Chestertown. The federal program, founded in 1964 as Volunteers in Service to America, is supported regionally by Transform Mid-Atlantic, and its members work to build campus-community partnerships to fight poverty.
Other opportunities for Washington College include the Mid-Atlantic Civic Fellowship—a Washington student was nominated at the end of February—and faculty development mini-grants, which support faculty at member institutions in enhancing their students' community-engaged learning.
"Transform Mid-Atlantic is a collection of institutions committed to civic engagement work," Nugent said. "Beyond career readiness, there are other ideas that have inspired American education at its finest, and one of them is how we can become contributing members to both local governance and democracy. Education is losing sight of that at its own peril as well as the peril of our nation."
Nugent entered his position with a goal to support and nurture Washington College's longstanding commitment to civic engagement. Nugent listed the Chesapeake Heartland Project, the Busload of Books initiative, and the college's collaborations with Rebuilding Together Kent County as examples of existing College projects that embrace civic engagement.
"Civic engagement is a theme that can unite the campus. Students are really committed to wanting to make a difference, and it is one of the ways the College can lean into those interests and help train and support the next generation of changemakers," Nugent said. "And it also builds on the College's historical significance. We are the first college founded in the new nation, designed specifically to train and inspire citizens of an emerging democracy."