Class of 2023 Graduates From Washington College
The College's 240th Commencement recognized the accomplishments of 221 graduates in front of family and friends from across the country and around the world.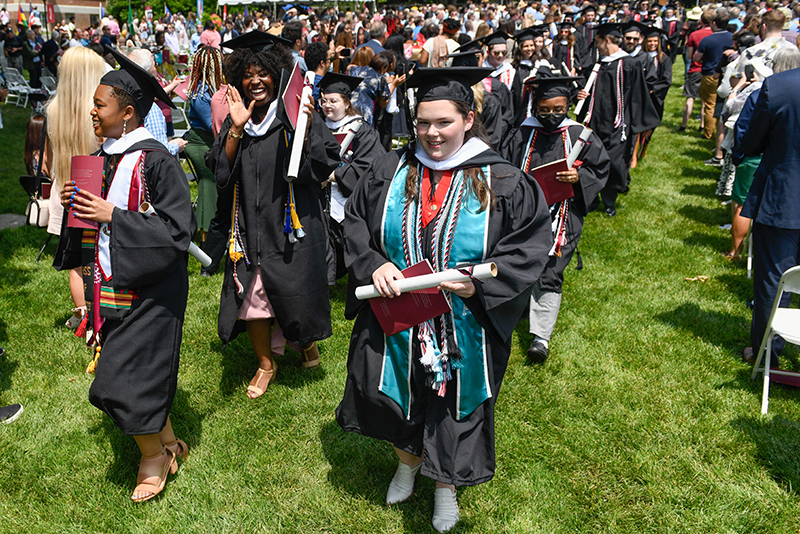 Spread across the upper half of the Campus Green, family and friends of the Class of 2023 stood and faced Dunning Hall as the bagpipers began to play. When the graduating seniors reached the crowd, a cheer went up that followed the students to their seats at the front.
Over the two-hour ceremony, awards were presented, and various speakers alternately reminisced about Washington College and urged the new graduates to use what they have learned to create better futures, for themselves and their communities.
Following the invocation and national anthem, College President Mike Sosulski started the reflections in his welcome remarks.
"You put every bit of yourselves into Washington College—into your classes, your research, your internships, your performances, your extracurricular activities, your athletic pursuits, your friendships, and so much more. You made this experience—and this College—your own," Sosulski said. "As you close this chapter and move into the next phase of your journey, I want to leave you with a simple but heartfelt thank you. Thank you for choosing to share your brilliant and curious minds with us these past four years. Thank you for your relentless pursuit of excellence and for demanding the same of us every day. And most of all, thank you for being an active part of this cherished learning community."
Graduating seniors also spoke about the community they had found during their time at the College. While lining up to process out to the ceremony, Jana Lewis, an international studies major from the Bronx, reflected on what she would take with her from her time at Washington, which included participation in the Black Student Union, Shore Steppers, Model UN, and study abroad at Yonsei University is Seoul, South Korea.
"The connections and friends I made and the memories I have made here will be with me forever," Lewis said.
While Lewis came to Chestertown from two states away to the north, graduating double major Jon Kelly (environmental science and anthropology) found Washington College the perfect distance from three counties south. Chestertown reminds him of his hometown of Cambridge, and the opportunity to be on the varsity sailing team all four years provided a nice connection to how he grew up on the water.
"We're pretty tied to the Eastern Shore so it is nice to stay on it being at Washington College," Kelly said. Once at Washington, though, he found new opportunities as well, joining the Phi Delta Theta fraternity and working on virtual tours for the Waterman's Museum in Rock Hall and the Starr Center for the Study of the American Experience through the Digital Scholarship in Museums Partnership. "Washington College helped me expand into those things."
Family celebrating their loved ones at Commencement also saw the impact that four years of high-impact opportunities had on their graduates. Jen Bruce-Maskeroni was at the ceremony with her husband and their 10-year-old daughter to watch their son, Riley Bruce, graduate with a degree in environmental studies after four years marked by virtual learning in the middle because of the COVID pandemic.
"It has been a long road at times and watching him find himself, find his people, find multiple directions he could go after graduation—it's what everybody wants for their kid," Bruce-Maskeroni said. "It is a small school, but he was still able to do something like environmental science and explore that whole other side of himself and take on leadership opportunities. It really did feel like a true liberal arts experience."
The myriad opportunities at Washington College and the way they broaden students' lives were themes that continued during the remarks from the senior class speaker, Daria Shirokova, who came to the College from Moscow, Russia.
"No matter where you are coming from—a different continent or a neighboring town—Washington College opens up a whole new world of possibilities and wisdom that you would not be able to encounter anywhere else," Shirokova said. "I invite you all to cherish your own Washington College stories. Your journeys here hold a unique value that you can offer to everyone else in the outside world."
The day's keynote speaker, U.S. Sen. Ben Cardin, first told Shirokova how much he appreciated her comments "and the importance of global understanding" before delivering a wide-ranging speech addressing threats to the environment like climate change and threats to democracy and a rule-based order, both globally and domestically. He noted that the future rests on the decisions of the generation graduating now.
"As you begin the next chapter of your journey, I encourage you to remember the values that have shaped you here at Washington College, values that this institution has stood for for almost as long as our country has been in existence: determination, curiosity, civility, leadership, and moral courage," Cardin said. "These values reflect not only the conviction of a man who left an indelible mark on our country, but also the timeless moral principles that our society needs now, more than ever."

Washington College Highest Honors and Prizes

announced during Commencement
Jane Huston Goodfellow Memorial Prize — Paleena Frances Amy and Max Reed Tucker
Gold Pentagon Awards — Alexandra Eileen May and Daria Shirokova (graduates) and Ann Dorsey Horner '80 (alumna winner)
Sophie Kerr Prize — Eylie Blue Sasajima
Louis L. Goldstein, Class of '35 Award — Nicholas Michael Splendoria
Eugene B. Casey Medal — Daria Shirokova
Henry W.C. Catlin, Class of 1894 Medal — Julianna Suzanne Sterling
Clark-Porter Medal — Jonah Isaiah Nicholson
George Washington Medal and Award — Queen Daveena Cornish