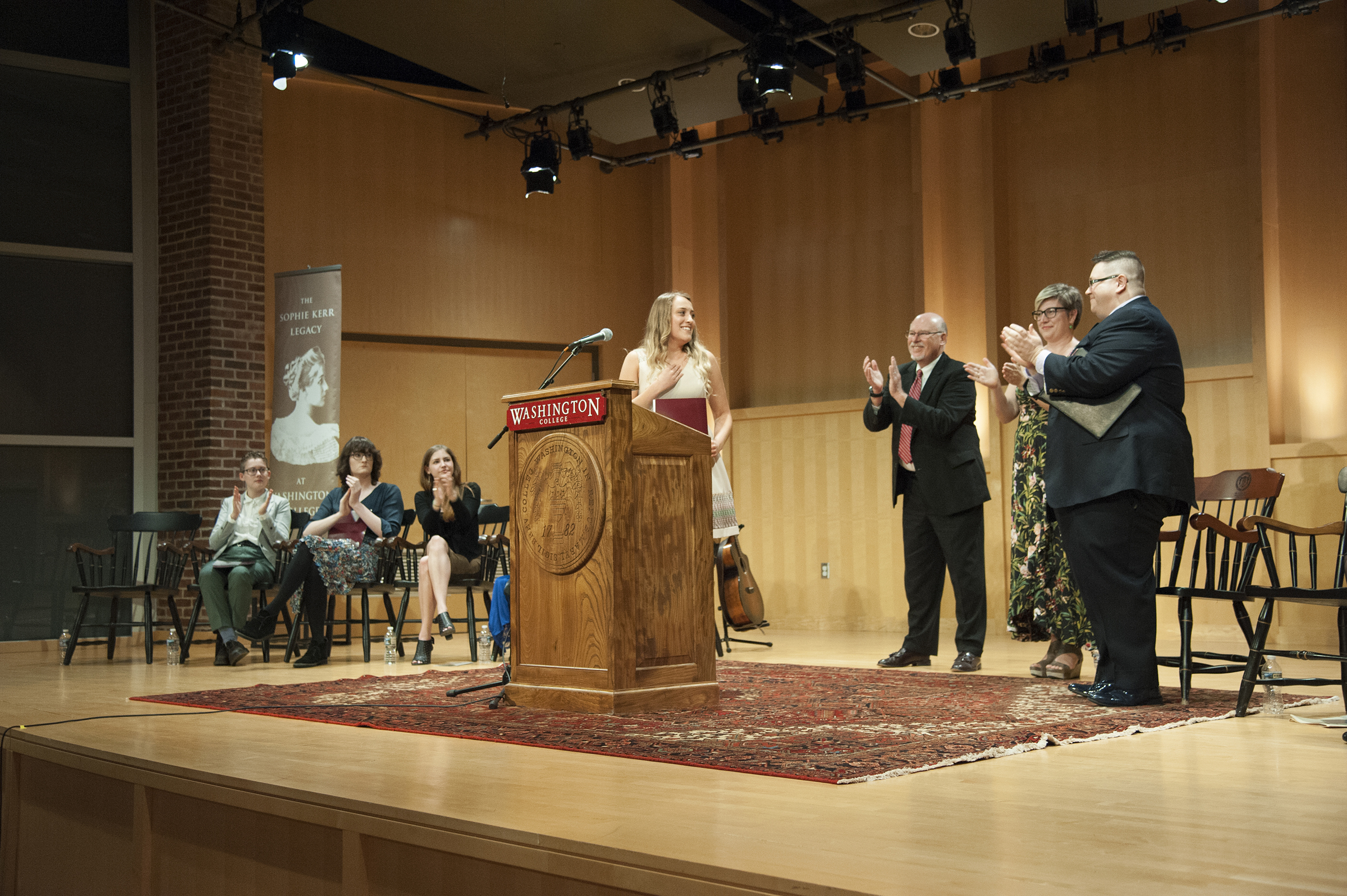 If you are a graduating Washington College senior (or graduated in December of last year) and plan to present a portfolio for the Sophie Kerr Prize, your submission should adhere to the following guidelines:
Introductory Materials should include:
A coversheet that includes the date, your name, a current contact phone number (cell phone preferred).
A table of contents.
The Honor Code statement.
An introduction. The introduction can take many forms; it may be a straightforward presentation of the materials included in the portfolio, an explanation of your development as a writer, or it may be a more creative document that discusses the portfolio in a nonlinear, imagistic way. Whatever approach you choose, try to create an introduction that addresses or embodies your strengths as a writer.
The Portfolio should include:
Examples of your strongest writing. This may include critical essays, creative nonfiction, poetry, fiction, journalism, stage plays, screenplays, blogging, graphic novels, or other hybrid forms.

The Sophie Kerr Prize is awarded to the student who has "the best ability and promise for future fulfillment in the field of literary endeavor." It is not a creative writing prize. Therefore, if your strength as a writer lies outside of creative writing, you should not feel compelled to submit creative work. Select writing that demonstrates your potential to contribute to "the field of literary endeavor."
The Sophie Kerr Prize is not limited to English majors or to creative writing minors. However, all portfolios should have a literary focus.
Some previous prize-winners have submitted portfolios whose strength lies in their ability to work in many different genres. Other prize-winners have won based on highly focused portfolios which demonstrate their skill in one, particular genre. Construct a portfolio that contains your strongest work, whether your work falls into many literary genres or into only one.
Work chosen for inclusion in the portfolio should be considered and arranged with careful deliberation. The demonstration of the breadth and depth of the writer's "promise for future success in the literary endeavor" should be evident not only in the individual pieces presented, but in their choice and arrangement. Portfolios should be complete in their demonstration of promise, but it should be noted that quantity by itself does not contribute to quality. The length of the portfolio, then, is a consideration when, in the judgment of the committee, the presentation of more material than is judged necessary weakens rather than strengthens the over all value of the portfolio.
Successful portfolios have contained as few as 25 pages.
Also include:
In preparation for the announcements of the finalists and eventual winner of the Sophie Kerr Prize, the Office of College Relations needs a brief biographical statement from all applicants. Please include the following essentials:
Name: Cell phone/ contact number: Major: Minor: Hometown: State (if not evident): Honors/Activities: Portfolio Description: Plans after Graduation (if known):
Please then incorporate all above details into paragraph form. See the sample below:
J. Smith, an English major from Baltimore, served as president of the Writers' Union, was on the sailing team, and achieved distinction as a member of Phi Beta Kappa. Smith's writing portfolio includes a collection of personal essays and short stories, many focused on athletics and family history. After graduation, Smith plans to intern for Sports Illustrated.
Format:
All writing pieces should be collected into a single Word document, and placed in their proper order as listed in the table of contents. (Ideally, the portfolio will be in Word. Students including images may use PDFs, if necessary.)
The biographical statement should be submitted as a separate Word document.
Insert page numbers in the portfolio itself (but no page number on the cover sheet).
Spell-check and proofread portfolios carefully before submission.
Submission:
Submit a complete electronic copy (final version) of your portfolio, along with your biographical statement, to englishdpt@washcoll.edu
Send this by e-mail attachment no later than Friday, April 14, 2023 at 5:00 pm.
All students will receive an email acknowledging receipt of the submission. Students selected as finalists will be contacted on Monday, May 15th after the Committee has met. A public announcement of the finalists will be made later that day. The Prize Ceremony will be held in the evening of Friday, May 19th, 2023.

Address any questions to Heather MacLennan (hmaclennan2), Administrative Assistant.
Sophie Kerr Prize Selection Process
Once students have submitted their portfolios, the Prize Committee begins its review.
The Committee is made up of full-time faculty in the English department and the President of Washington College
Portfolios are not submitted or reviewed anonymously.
The Committee members read all of the portfolios and meet to discuss the quality of the work in relation to the guidelines stipulated in the Sophie Kerr will.
The Prize is awarded to the graduating senior who has, in accordance with the will, demonstrated "the best ability and promise for future fulfillment in the field of literary endeavor."
In addition to the winner, the Committee may also select finalists to recognize.
Important Reminder: Plagiarism is a serious academic and professional offense. Any Sophie Kerr prize submission found to contain plagiarized material will be considered in violation of the Honor Code and will be reported to the Dean's office. The consequences for plagiarizing may include expulsion from Washington College. Washington College has contracted with Turnitin.com, a web-based plagiarism prevention service. Portfolios submitted for the Sophie Kerr Prize may be submitted electronically to Turnitin.com.